A stroll down South Molton Street in London will undoubtedly present you with a line of ice cream hungry people outside the Magnum London Pleasure store.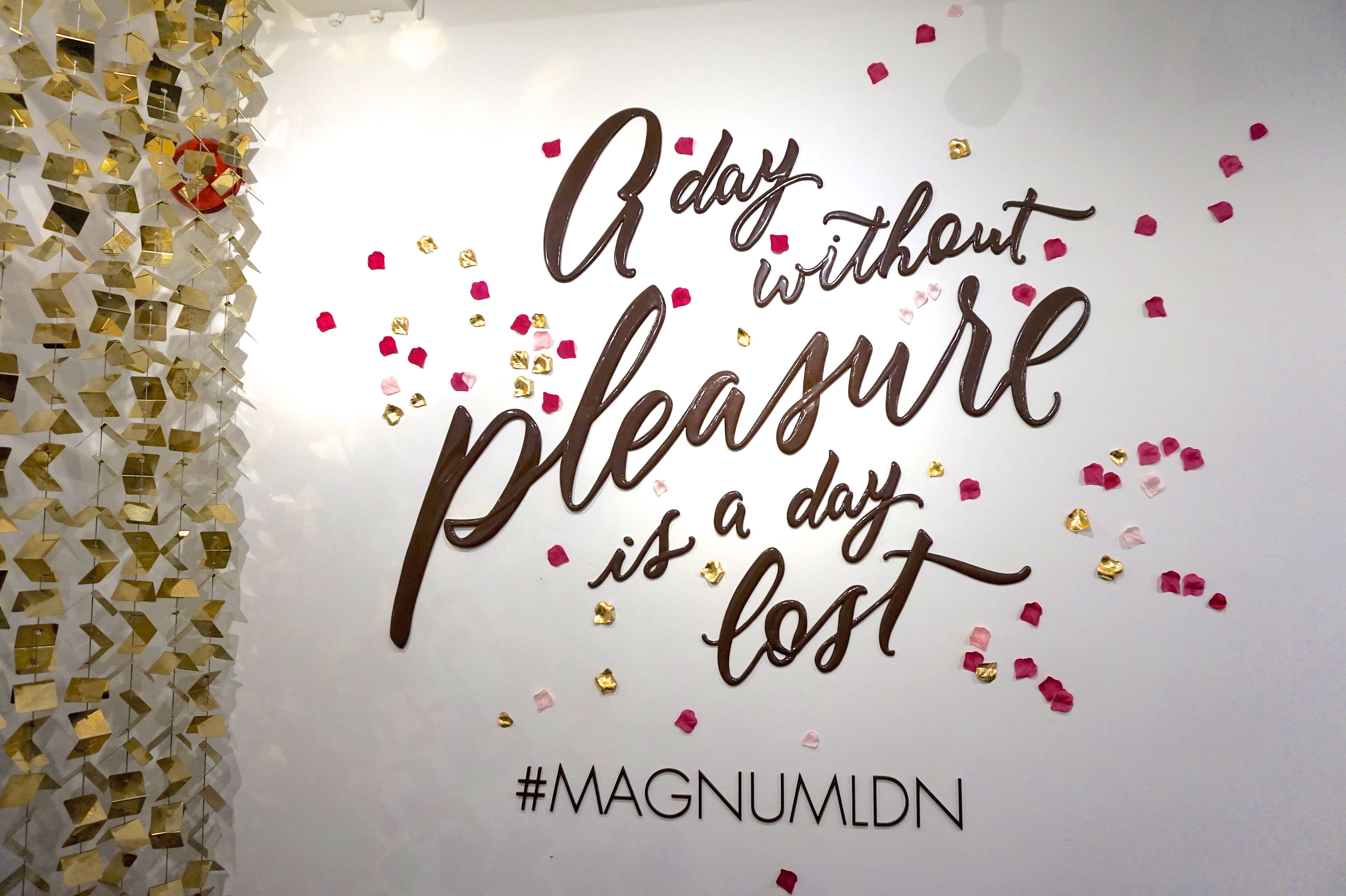 I was invited along to the Magnum London Pleasure Store recently for a behind the scenes experience. My sister Stephanie was visiting London and I managed to share the experience on my Periscope live-streaming channel (Boop.LIVE). You can actually watch the broadcast replay here in case you missed it. I am excited to share this post as part of the new #BecBoopLDN travel series. There is just enough time for you to still visit the pleasure store before the pop-up closes on 11 September.
Magnum London Pleasure Store
Bypassing the line outside we stepped inside the Magnum London Pleasure store. My eyes were on stalks as it has a super glam feel with the likes of Kendall Jenner adorning the wall. Next up I saw the London art piece created out of lollipop sticks. Visitors to the store can create their personalised Magnum ice cream with an array of toppings, some of which you will never imagine (see below). The Magnum London Pleasure store has been open all Summer and will close on 11 September.
Our Magnum Creations
As special guests at the Magnum London Pleasure store, Magnum invited Stephanie and I behind the counter to make our own ice cream creation. After a lesson from the chocolatier expert we gave it a go. Stephanie went first and I broadcast her ice cream making attempt on Periscope which was so much fun! Although the network connection was a bit iffy in the store we were still able to share our Magnum London experience with almost 1,500 viewers via Periscope.
LIVE on #Periscope: Welcome to @MagnumUK pleasure store! Making a #MagnumLDN ice-cream! https://t.co/OAsM5rbAT1

— BecBoop (@BoopFashionista) 18 August 2016

We started off by selecting three toppings which we added to a cocktail style shaker. I chose chocolate chips, pistachio nuts and rose petals! Following this you select what type of Magnum ice cream you want and what type of dipping chocolate. The dipping is definitely the most fun part! After this you shake the toppings onto the ice cream on both sides and add the iconic Magnum button to finish the masterpiece.
Visiting the Magnum London Pleasure store was such a fun experience and I would definitely recommend it if you are in London before the pop-up closes. Otherwise let's hope it returns next Summer!


I would love to hear from you in the comments below. Have you been to the Magnum Pleasure store yet?
BecBoop has been shortlisted in the #BloggersBlogAwards in the category of Best Use of Social Media for my Periscope channel. If you enjoy my content please vote for me here. BecBoop is also nominated in the first ever Snapchat Ghosties awards in the category of Best Newcomer – please vote here.