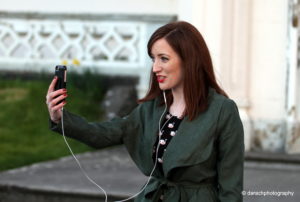 BecBoop is a content creator in the areas of blogging and live-streaming. Her blog BecBoop is a London fashion, beauty, travel and lifestyle blog. She is a leading global broadcaster on live-streaming mobile app Periscope and Twitter where she broadcasts taking her BoopTroop community behind the scenes at high profile events. BecBoop provides exclusive event coverage via Periscope and her blog including live-streaming at London Fashion Week and much more. As a public speaker BecBoop has shared her live-streaming experience and tips at events including Twitter UK's #FurtherFaster event and MoJoCon – the world's biggest mobile journalism conference. BecBoop is currently the number 4 beauty blogger influencer in the world as ranked by Onalytica.com (2016).
Please see my Contact page to get in touch.
Social Following (updated weekly)
Twitter @BoopFashionista 14,750
Periscope @BoopFashionista 61,270
Instagram @Bec_Boop 8,546
Pinterest BecBoop 48,494
Facebook BecBoop 3,169
YouTube 1,080
Total 137k
Snapchat stats available upon request
Disclaimer
Products denoted with * have been gifted. Sponsored posts will be noted as such at the end of the post. Affiliate links are used on BecBoop blog and social media platforms. All words and opinions expressed on BecBoop are my own.
Awards
Finalist in 2017 Shorty Awards Periscoper of the Year
Finalist Best use of Social Media #BloggersBlogAwards 2016
Nominated Best Snapchat Newcomer Snaphappen Ghosties 2016
Winner Best Blog Online Marketing in Galway 2015 Awards