Introducing the new Spectrum Bombshell Brushes Collection set to launch as part of their AW16 range on 23rd September.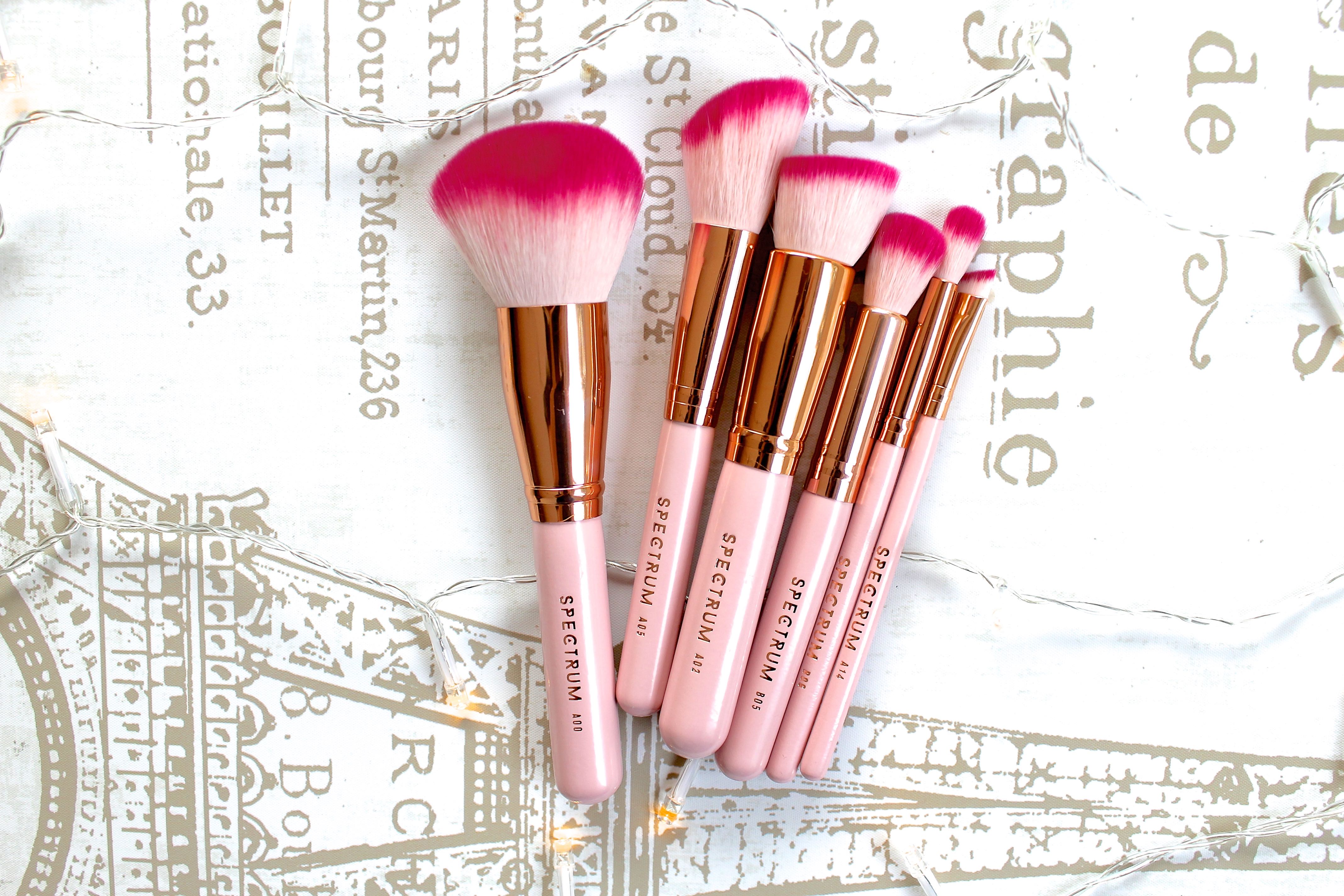 After attending the Spectrum AW16 launch party in Soho, London recently I was thrilled to find these brushes in my goodie bag. I have been trying them out for about one month now and wow am I impressed.
About Spectrum Brushes
Spectrum Collections have fast become a beauty blogger favourite. They claim to be the world's most instagrammable makeup brushes and it is no secret why. Their collections come in absolutely gorgeous colour palettes and packaging. Think mermaids, marbling and unicorns. They have really taken the beauty world by storm. Many UK based celebrities have endorsed the makeup brushes promising exceptional quality in addition to being aesthetically pleasing.
Spectrum brushes and collections are also vegan and cruelty-free, made of high quality synthetic hair. You can shop Spectrum Brushes online or from Beauty Bay.
Spectrum Bombshell Brushes*
I tried out 6 of the makeup brushes from the new (yet to be released) Spectrum Bombshell Brushes collection. The full set, which launches as part of Spectrum's AW16 collection, contains 12 brushes and is available in either the BombShell or Oyster Roll brush bags. There is no doubt about it, these brushes are beautiful. I could just sit them on my makeup counter as the perfect instagram background never mind even using them.
The rose gold detail is stunning. I am really all about rose gold everything so I know I would definitely have been tempted to pick these up had I not been gifted them at the event. The actual brushes are pink and white and again – super cute.
A bit about Spectrum collections: The brushes are categorised in to A – Application, B – Blending and C – Contouring. I tried the following brushes from the Spectrum Bombshell brushes collection:
A00 – Luxe Powder
This is a large powder brush which has a really silk feel. I found the brush looked quite thick however the application was very smooth. I have been using this brush to apply my Artistry Loose Powder after I apply my foundation using A02.
A02 – Angled Foundation
This is a chunky, flat, tapered brush which is great for applying liquid foundation. I used it to apply my NARS Sheer Glow Foundation and loved the even application it gave.
A05 – Precision Blush
A05 is a tapered, blush brush which reminds me of the angled brush end of the Urban Decay Naked Flushed brush. I used this to apply contour rather than the blush it was intended to apply but it was great for that!
B05 – Small Angled Blender
I found B05 worked great for applying both powder concealer (I use the Anastasia Beverley Hills  Pro Series Contour palette) and highlighter (I use the Becca Jaclyn Hill Champagne Collection palette).
B06 – Tall Tapered Blender
This is quite a large eyeshadow brush and perfect for blending on the outer corner of your eyelids.
A14 – Brow Definer
A14 is technically a brow brush but I used to apply eyeshadow on my lower lid as it has great precision. It is a pretty multi-functional brush!
My favourites from the Spectrum Bombshell Brushes are definitely A02 and B05. I definitely plan on adding more Spectrum brushes to my collection though, they are just so pretty!

I would love to hear from you in the comments below. Have you tried any of the Spectrum Collections brushes yet?
BecBoop has been shortlisted in the #BloggersBlogAwards in the category of Best Use of Social Media for my Periscope channel. If you enjoy my content please vote for me here. BecBoop is also nominated in the first ever Snapchat Ghosties awards in the category of Best Newcomer – please vote here.