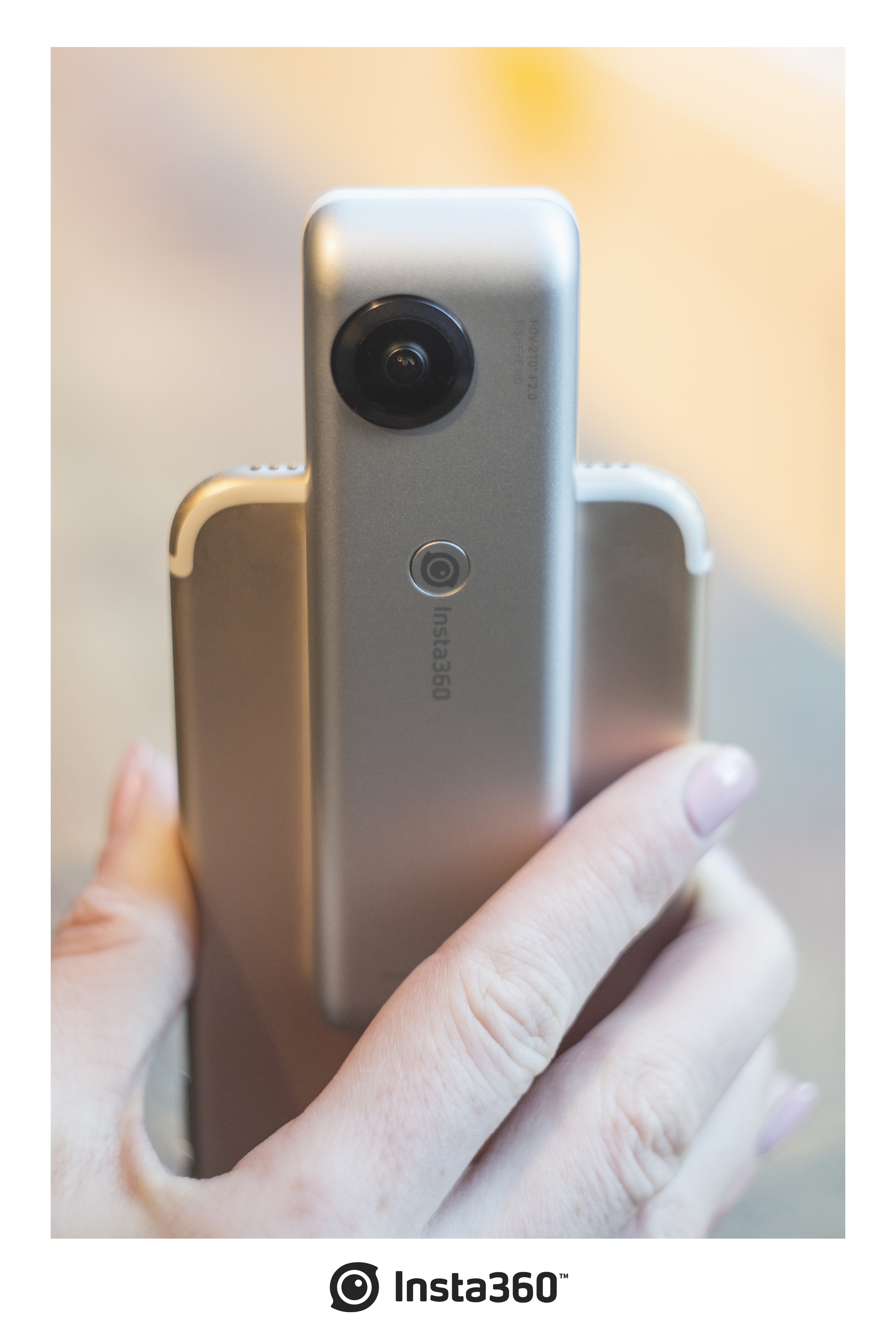 Being an avid live-streamer I, of course, could not wait to try out 360 live-streaming once Periscope enabled it. I have spent some time fine-tuning my plans to create 360 content in my blog strategy and I want to share this with you along with my Insta360 Nano first impressions.
How to create 360 content
OK it goes without saying you need some sort of 360 device in order to create 360 content. I had many misconceptions about 360 cameras. I figured they were complicated to use, large, bulky and expensive. Then I heard about the insta360 nano camera. This is the only 360 camera which is integrated into Periscope and allows you to go live in 360 directly from the app. The insta360 team kindly sent me out one of the cameras to try and I was hooked!
As you can see from the photographs in this blog post, the camera sits in the battery connector part of your iPhone and you hold your phone upside down. There is an app which goes along with the camera in order to allow you to create 360 photographs and animations, more on that below. When the camera is attached you need to hold your phone upside down, which takes a little getting used to! It is also possible to use the camera on it's own (without a phone) to create 360 content using an sd card to export the photographs.
360 Photography
This is the first kind of 360 content which I had seen on social media, usually over on facebook. These photographs are exported from the insta 360 app in panoramic view and then uplodaed to facebook where they work in 360. Viewers can tilt their device or slide around the screen to explore in 360. You can see an example of one of my 360 photographs on Facebook here.
This is a panoramic shot at the Gateway of India, Mumbai. But if you head over to my FB page you can explore in 360 https://t.co/4tN3kHZxOg pic.twitter.com/ojuztQcm5y

— Rebecca Casserly (@BoopFashionista) March 19, 2017
Tiny Planet Photography and Animations
I actually think that the tiny planet style 360 photographs look the best! They are so cute and a real fun way to create 360 content. I have really enjoyed taking tiny planet photographs, so much so that I have ended up setting up a new instagram account solely for my tiny planet photographs. Give it a follow @Boop360 to see more. The tiny planet animations allow viewers to get a 360 look around aswell as enjoying the tiny planet photograph.
It goes without saying, video content is king and I think this kind of 360 video content is really engaging. When exporting the tiny planet photograph in the insta360 app you have an option to export as an animation which looks something like this:
Waiting for Fantasmic to start tonight at @Disney Hollywood Studios! 🎆🎇🌠@DisneyParks @WaltDisneyWorld @insta360 pic.twitter.com/DVedGQcEfU

— Rebecca Casserly (@BoopFashionista) March 1, 2017
360 Live-streaming on Periscope
I was so excited to try out live-streaming content in 360. I have used this a couple of times now and it was a completely different experience to my regular live-streaming broadcasts; the engagement was incredible. Now while I am live-streaming on Periscope in 360 my viewers can swipe around the screen or move their phones to see the broadcast from various different angles.
I have been trying to think of some fun ways to incorporate this into my social-media strategy here on BecBoop. I definitely think it will be fun using this more on my travel broadcasts. Here is a live broadcast I did in London in 360.
Welcome to London in 360 #Periscope360 #golive https://t.co/r4qqbgmwmk

— Rebecca Casserly (@BoopFashionista) January 25, 2017


Insta360 Nano First Impressions
The insta360 nano is definintely a great starter camera for creating 360 content. It is so easy to use and once you install the app it is pretty self-explanatory. I love how slim, sleek and stylish the camera is. Totally not what I was expecting from a 360 camera. I have also found the battery life to be reasonably ok. The insta360 nano is about $199 which is in line with my expectations of how much I would pay for a 360 device.
Discount Code
I have a discount code for my followers to use if purchasing the insta360 nano – just enter 1BOOP360 at checkout. Here is the link to shop from US HERE and UK HERE.
If you enjoyed this post save to Pinterest for later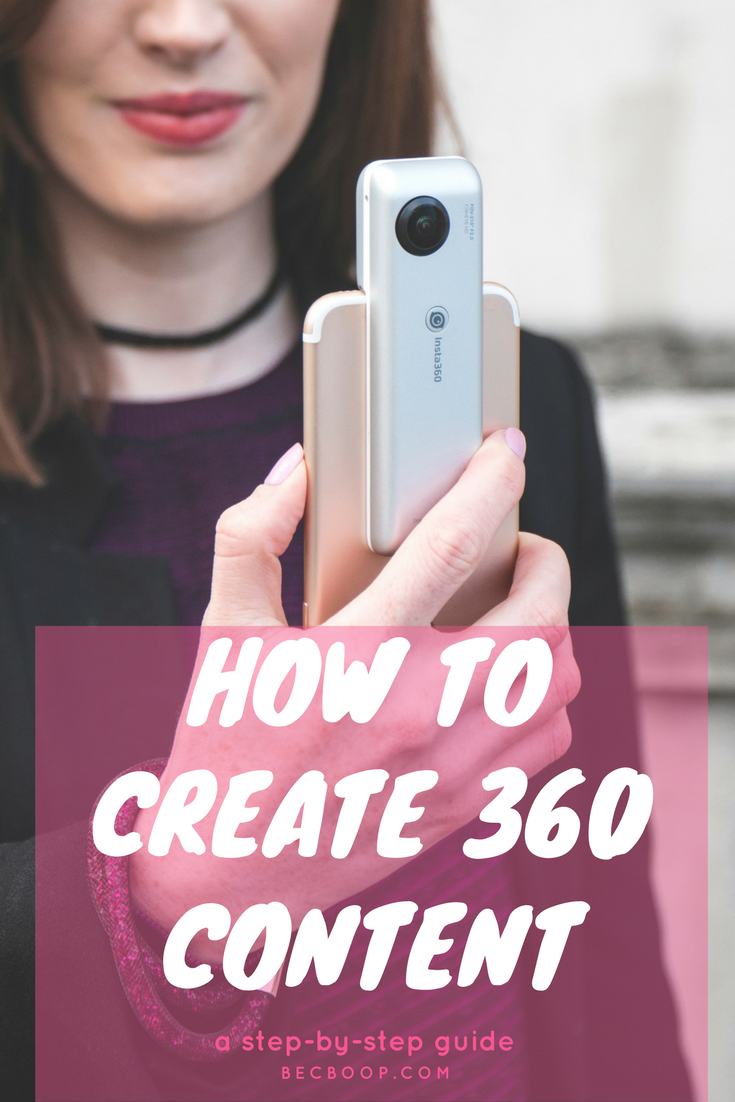 Photography
I would love to hear from you in the comments below. Have you been enjoying my 360 content? Let me know which type of 360 content is your favourite.
Connect with Bec Boop everywhere!
If you enjoyed this blog post you might also like:
Live-streaming equipment for Periscope
5 ways bloggers can use live-streaming