Happy Monday BoopTroop! How I wish I was still on holidays in the beautiful French Basque region. If you missed it on my social media last week (add me on Snapchat Bec_Boop and Instagram Bec_Boop to keep up to date with my travels) I visited Biarritz for a short break with my sister Stephanie. Here's a fashion round-up of what I wore in Biarritz.
That first photo was my travel outfit from the day we arrived in Biarritz. I wore my white River Island cropped jeans, a holiday staple, with a flowy Mango top and my current favourite blush pink suedette blazer from Zara.
Outfit Day 1
Maxi Dress Missguided here
I finally found a maxi-dress that fits perfectly, meaning I can wear it with flat shoes! This is a petite fashionista's dream tbh. I usually have to wear maxi-dresses with heels since I'm on the shorter side and I was thrilled to find this black frill maxi dress in the petite section on Missguided. As soon as I tried it on before my trip I loved it straight away! There is a shorter skirt on the inside with a longer layer including a high side-split. I loved everything about this dress and I'll definitely wear it again!
I also finally took out my Kate Spade rucksack which was perfect for strolling around Biarritz. I had a lot of my content creating kit with me including tripod, 360 camera and more mobile accessories so it was really easy to carry everything around in this stylish bag.
Outfit Day 2

Dress Missguided here
I kind of did a bit of online shopping in Missguided before my Biarritz trip so yes, the next dress is also from Missguided. This was actually my favourite dress however the photos don't fully do it justice. I can't say I minded though, snapping on Le Grand-Plage beach at sunset barefoot was worth the slightly darker photographs.
I have a weakness for off-the-shoulder dresses and tops and I pray that this trend remains every Summer! I also love to wear anything blue so this blue printed bardot-style dress was a perfect find.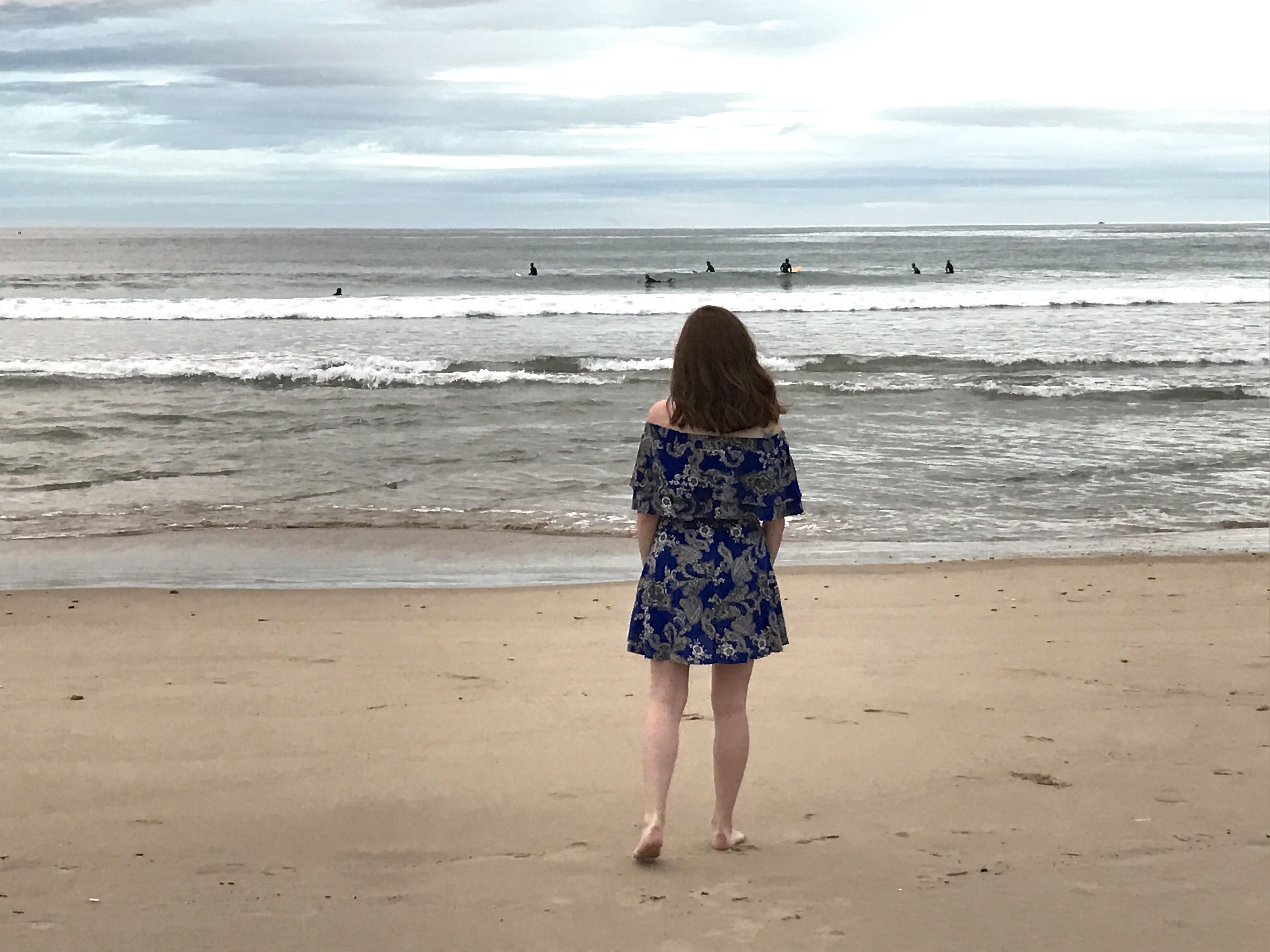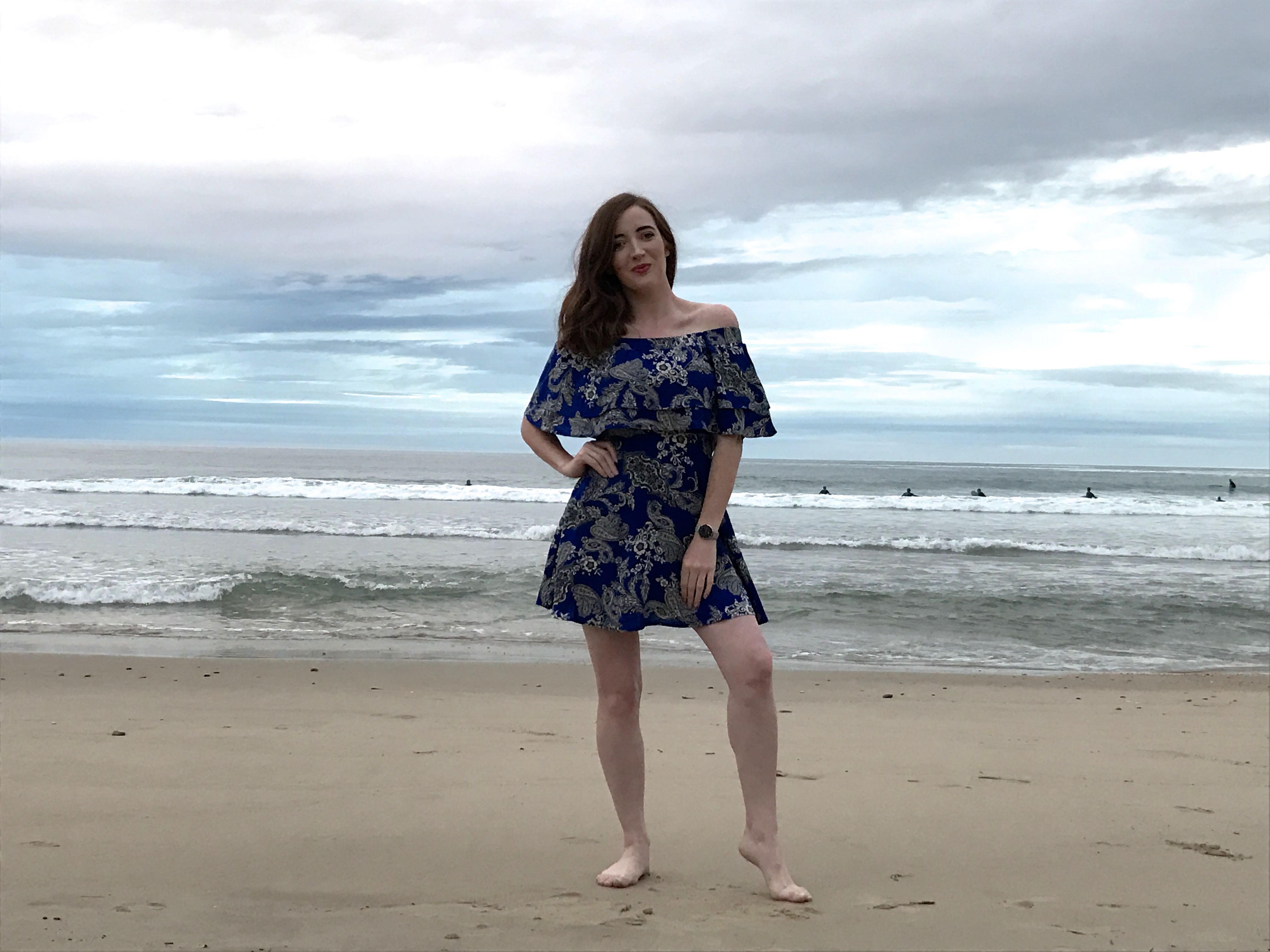 Outfit Day 3
Dress Missguided here
This was the dress I wore during our day-trip to San Sebastian in Spain. I strayed away from my usual black or blue wardrobe to something more cute and super Summery! Again, a Missguided find, I loved all the detail in this pink floral halter-neck dress. The halter-neck style was a little different for me and I liked the waist-tie to add some shape. I should mention I wore my silver Zara flat shoes most days as they are super comfortable and we did a lot of walking around exploring so comfort was key!
I honestly wish I was still in the Basque Region wearing these pretty Summer dresses!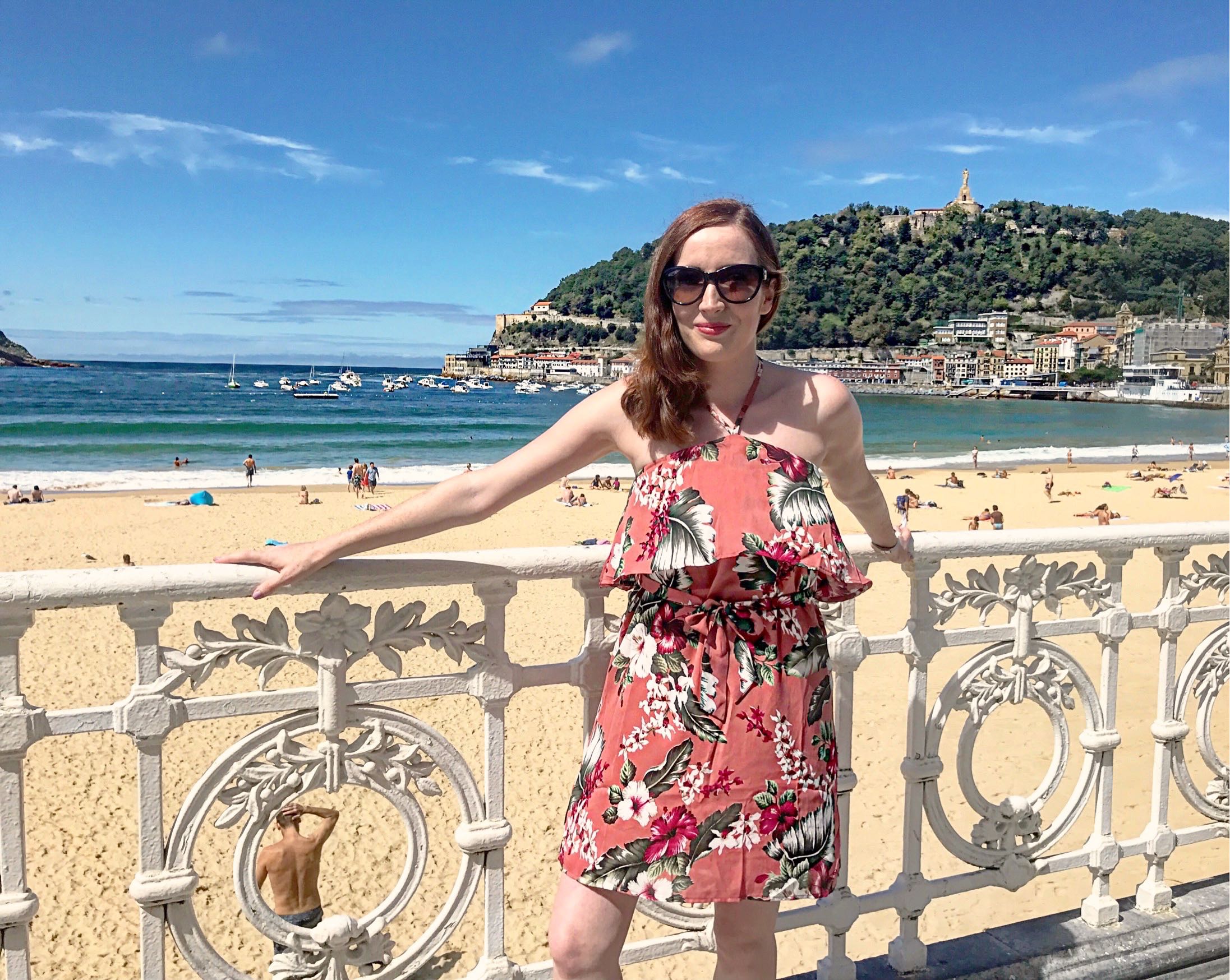 Evening Outfit
Dress New Look here
I LOVE these photos! This was one of my evening outfits when we went for dinner over-looking the stunning Côte des Basques beach. I've had this mesh floral embroidered dress for a little while now and I really like it. From New Look, this is an easy-to-wear t-shirt style dress that packs in a lot of detail in style! I could easily wear it for a daytime look but on this evening I added heels for a little more of a dressed up look.
But who even cares about the dress with that incredible sunset behind me!!
Shop my Biarritz Holiday Outfits
I would love to hear from you in the comments below if you enjoyed my holiday outfits round-up post!
Photography
Connect with Bec Boop everywhere!