Happy Monday BoopTroop! I recently enjoyed a weekend in Manchester which you might have seen if you follow me on Snapchat or Instagram Stories (Bec_Boop). The team at the newly renovated Ibis Styles Manchester Portland invited me along for a weekend to experience all that the city of Manchester has to offer. I also vlogged it of course which you can watch at the end of this blog post or else here on my YouTube channel (don't forget to subscribe!). In today's blog post I'm sharing my review of the Ibis Styles Manchester Portland and letting you in on our wonderful experience in the hotel.
Ibis Styles Manchester Portland Street
After an easy train-ride from London to Manchester we walked the very short distance from Manchester Piccadilly train station to our hotel – the Ibis Styles, Portland Street. This hotel immediately stands out and I was excited to enter under the over-sized sunglasses that greet you above the doorway. The weather themed hotel easily has the most instagrammable reception area with a super cute umbrella ceiling area, giant deck chair and more giant sunglasses. Perfect for those selfies or instagram stories moments.
We headed into the Jamboree Food Fest & Bar for a quick lunch before checking into our room. The bar area is really cool, I loved the lighting and atmosphere here and of course we ended up popping into the bar later that evening for dinner too! Following lunch we checked into our weather themed room, the 'drizzle room'. The room itself was compact but oh so quirky and the bed was so comfortable I ended up having a cheeky little nap before we went out later that night.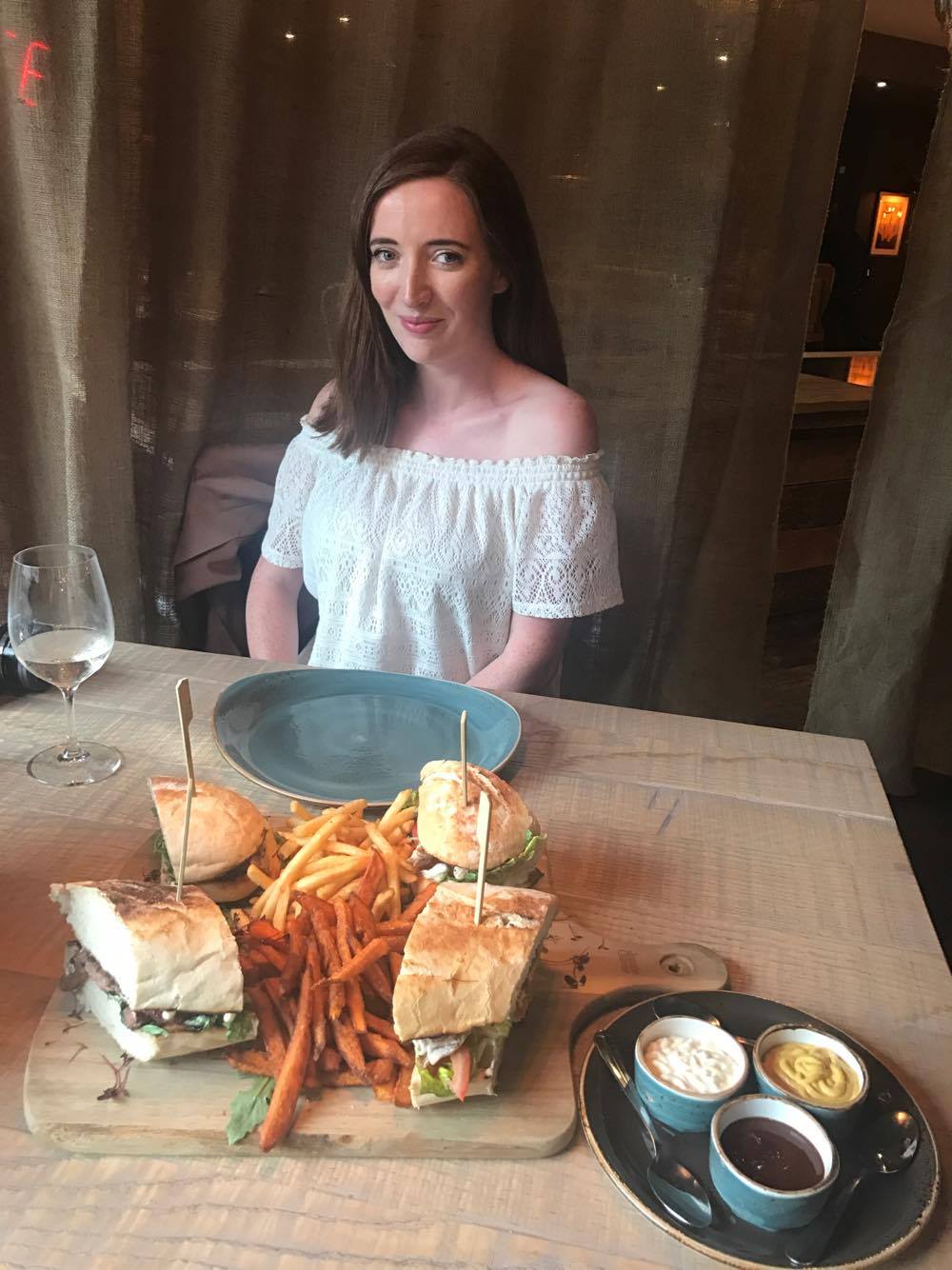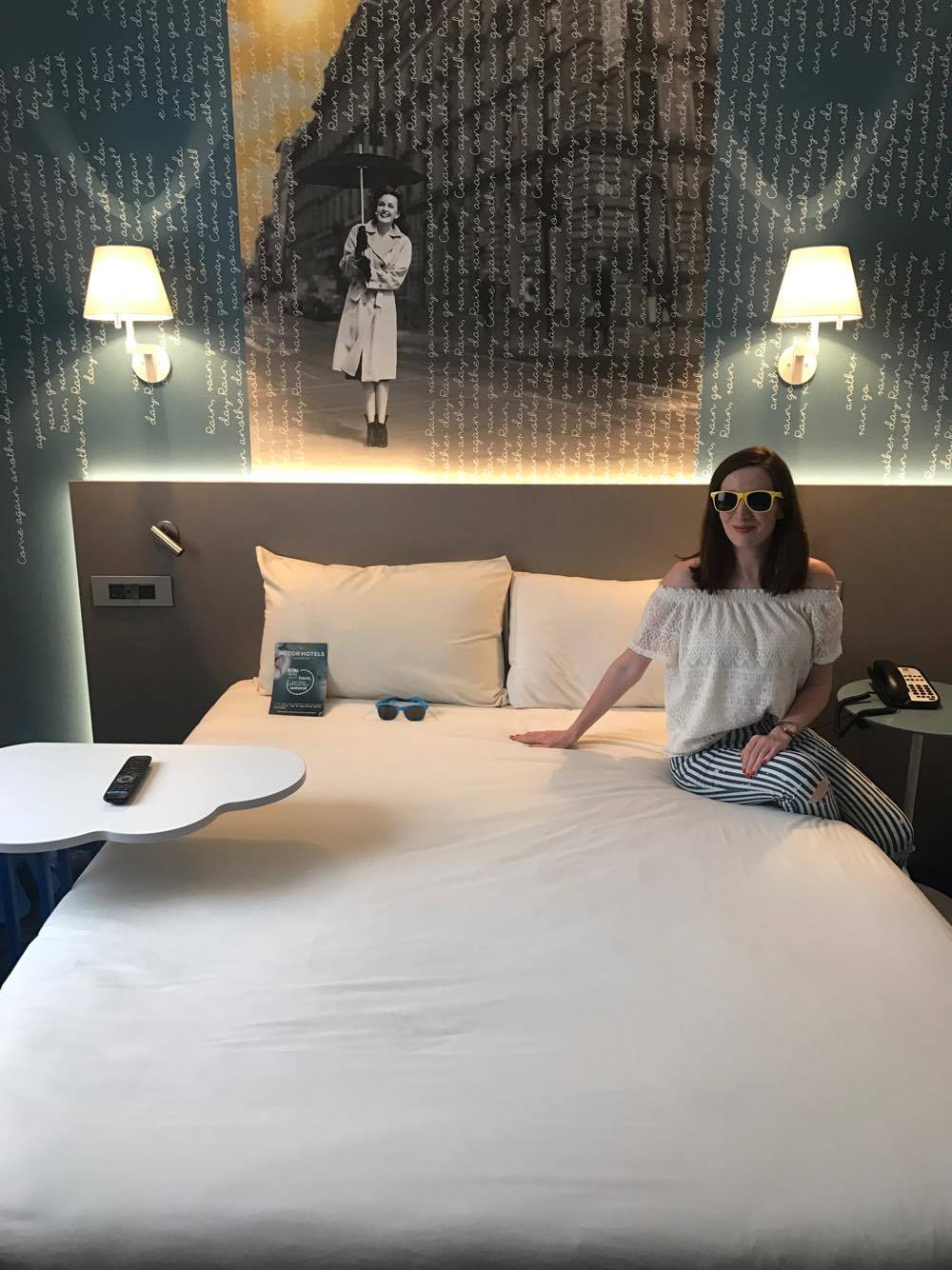 Back to the Jamboree Food Fest for dinner; this bar offers the best and most diverse menu of food from all over the world. I opted for the Spanish inspired Serrano Ham Croquetas to start followed by The Jerk burger. Both were delicious. Of course we tried one of the many cocktails on the drinks menu also.
Breakfast the next morning was served back in the Jamboree Food Fest & Bar. Ibis Styles Portland Street offer a basic continental style breakfast which was perfect to get us started for another day exploring Manchester.
I really enjoyed my stay in the Ibis Styles Portland Street and I'll have another blog post coming soon with all the details of what we got up to exploring Manchester for the weekend. Don't forget to watch my Manchester Travel vlog below to see more of inside the Ibis Styles Portland Street and my weekend in Manchester!
Weekend in Manchester Vlog
I would love to hear from you in the comments below. Have you been to Manchester?
* I was a guest of Ibis Styles, Portland Street
Connect with Bec Boop everywhere!
If you enjoyed this blog post you might also like:
Le Meridien Hotel, Vienna Review
Castle Hotel Windsor Launch Party