I adore Summer fashion, mostly because I'm a total shorts lady and in today's blog post I'm sharing my two must-have Summer fashion staples. You need to have a bardot top and a versatile pair of denim shorts in your Summer wardrobe. Otherwise is it even Summer?
These are the two fashion items I think will see you through the Summer months in any year, regardless of other fashion trends that might come and go. I first fell in love with off-the-shoulder tops last Summer and I've got quite a few in my wardrobe now. Denim shorts however, I can't even remember the first pair I got. Every Summer vacation I pack a pair of denim shorts into my suitcase and I know I'm sorted!
The Bardot Top
I love bardot tops and am constantly adding more to my Summer wishlist. I usually wear a simple off-the-shoulder top and I've got a few options that cover off glam nights out or everyday wear. I recently received this bardot top from Quiz Clothing and I love it. It's different to many other bardot tops I've seen and yet this colour trend has been summer popular for Summer 2017. The slightly longer sleeves are also very on-trend this Summer.
I love the lace detail and teeny tiny straps that break up the otherwise bare collar-bone area. I tucked it into my denim shorts for a more relaxed look but I've also worn this top with jeans and heels for a night out.
Denim Shorts
Did I mention I love shorts? I would wear shorts everyday in Summer if I could! I picked up these ripped denim shorts from ASOS before my vacation to Florida earlier this year and they have definitely seen me through the Summer months. Denim shorts are so easy to wear for daytime Summer style. Unlike the bardot top I do tend to keep denim shorts more for casual daywear rather than evenings. I like to wear them with a nice pair of flat sandals and head to a picnic in the park or to the beach.
What I'm Wearing
Bardot top* Quiz Clothing here // Denim Shorts ASOS here // Bag Kate Spade // Sunglasses Michael Kors
Shop my Summer Fashion Staples

Save to Pinterest for Later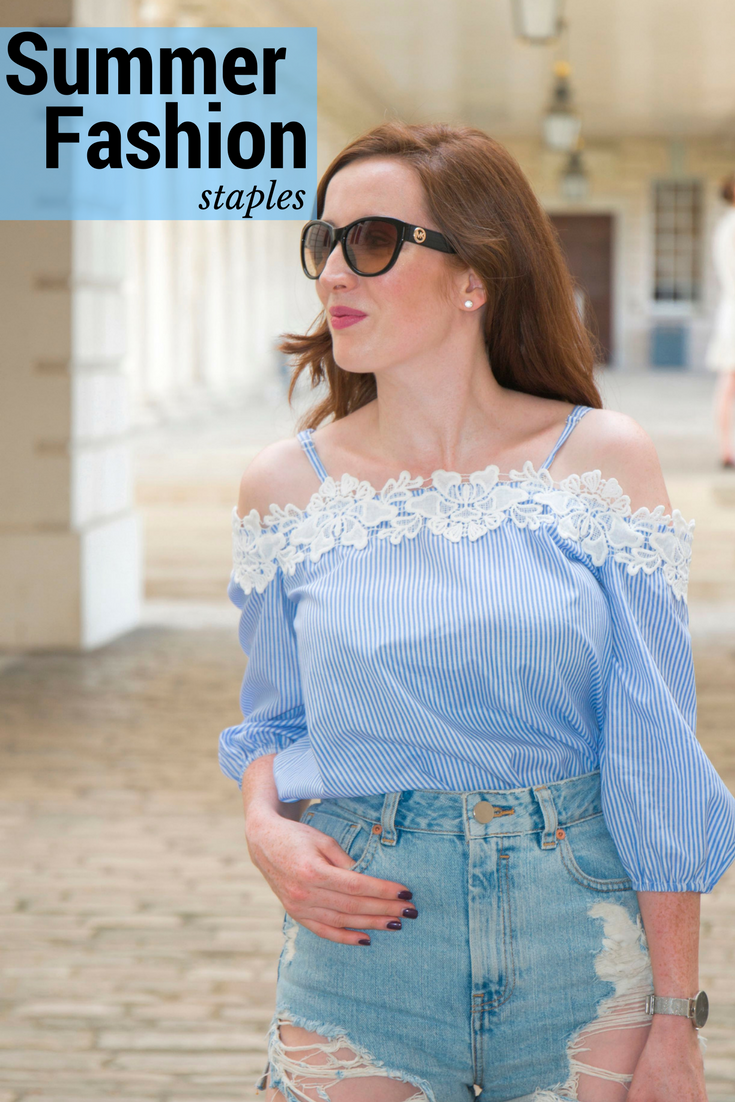 I would love to hear from you in the comments below. What are your Summer fashion staples?
Photography
Connect with Bec Boop everywhere!
If you enjoyed this blog post you might also like:
5 Steps to Define your Signature Style
The Perfect Summer Wedding Guest Dress