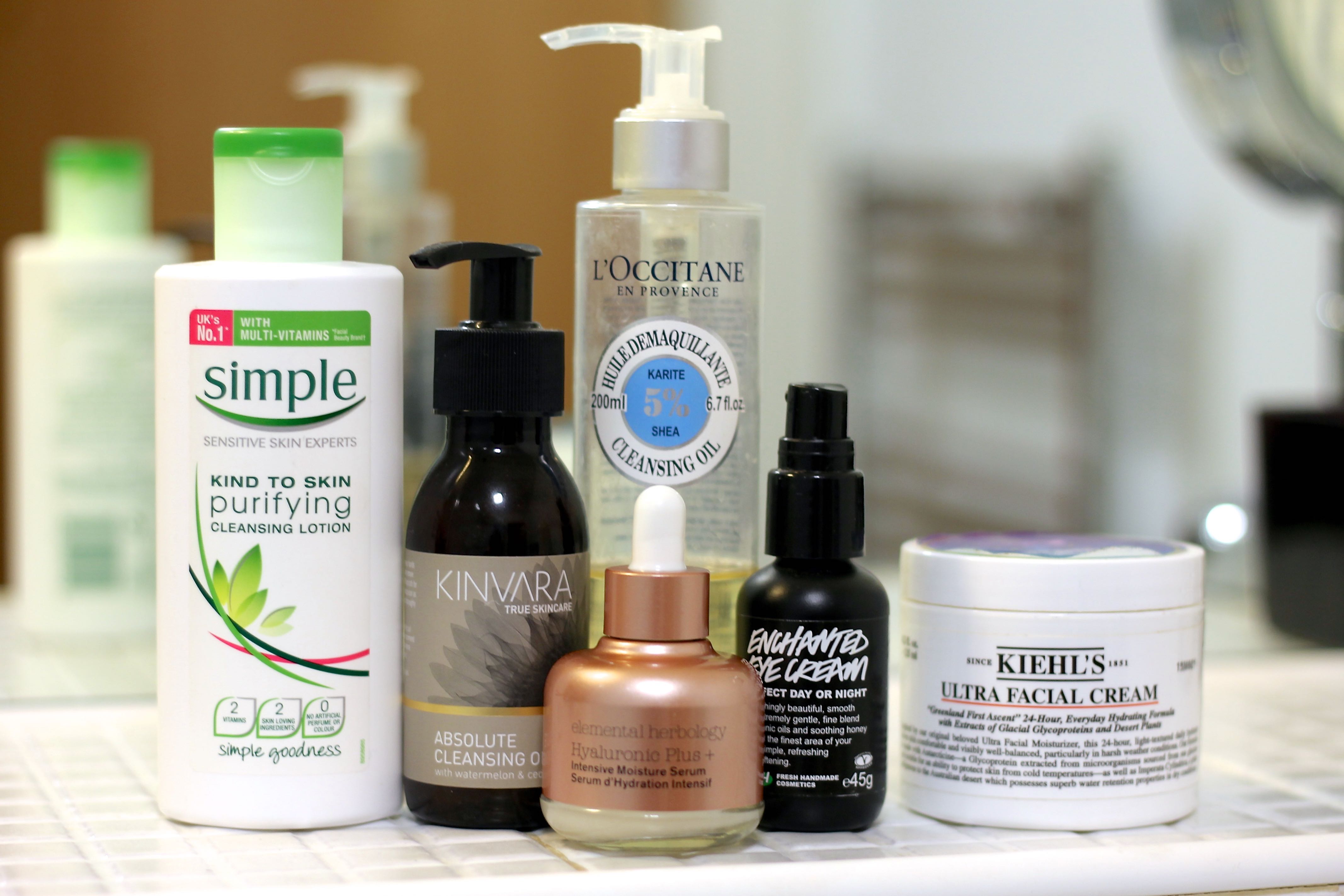 Today I'm sharing my quick evening Summer skincare routine with you. There's also a full video over on my YouTube channel about this today so make sure to check it out and subscribe to my YouTube channel for new weekly videos.
My skincare routine changes frequently, during Summer I want something quick as I am travelling a lot and also quite light as my skin tends to get a little on the oily side during the warmer weather. My skincare routine currently consists of about five products that I use almost on a nightly basis. They are all well suited to sensitive skin, a priority of mine when it comes to skincare products and this combinations definitely leaves my skin feeling refreshed and super soft.
I start with a double cleanse using the Simple Purifying Cleansing Lotion with some cotton pads to remove my makeup. This is probably the one skincare product which always makes an appearance in my skincare routine, no matter the time of year. I find it perfect for removing my makeup each evening and it's super budget-friendly. I'll then follow this with a quick oil cleanse. I flitter between the L'Occitane Shea Cleansing Oil and the Kinvara Skincare Absolute Cleansing Oil. You might remember I mentioned the Irish brand – Kinvara Skincare not so long ago here on BecBoop and this is the product from the range I have found myself using the most.
Following this I'll always use a light eye cream around my eye area to work it's magic overnight. At the moment the Lush Enchanted Eye Cream definitely fits the bill. I first mentioned this product in my Lush Skincare Haul & First Impressions blog post and I've been loving it ever since.
The next stage in my evening skincare routine will always be a skincare serum. I think it's so important to indulge your skin with a deep serum overnight as I mentioned in my Face Serum Favourites blog post. At the moment I am using the high-end Elemental Hylauronic Booster Plus serum. This is a really intensive anti-aging facial serum, I'm a strong believer in using anti-aging products in your twenties – you can never start too early!
Finally I will use a moisturiser to nourish my skin as I sleep. Usually I go for a heavy and rich moisturiser such as the Jivesse Marine Collagen Cream however during the Summer months I prefer something lighter to complete the combination of products in my evening skincare routine. I find the well-known Kiehls Ultra Facial Cream to be perfect for this time of year.
Don't forget to watch my YouTube video to see these products in action and hear more about why they are essentials in my quick evening Summer skincare routine!
I would love to hear from you in the comments below. What does your evening skincare routine look like? Do you use any of these products?
Connect with Bec Boop everywhere!
If you enjoyed this blog post you might also like:
Discovering Kinvara Skincare Products
Lush Skincare Haul & First Impressions