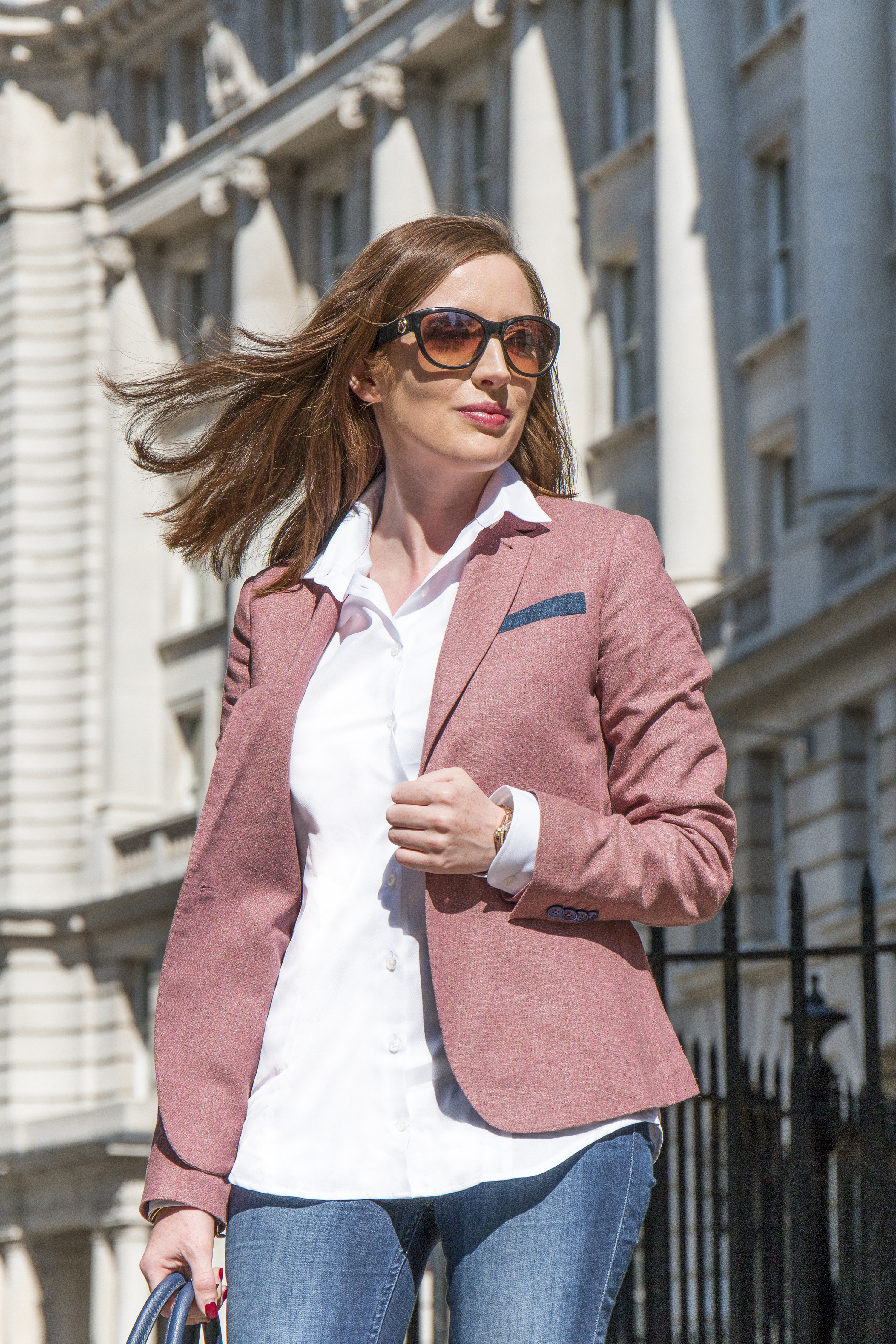 Happy Bank Holiday Monday! I am enjoying a day off work and hitting you with some business casual styling inspiration from new tailoring label Arthur Shirtley.
I don't mention it very often here on BecBoop but Monday-Friday I work in a professional office environment. It can be hard to link my love for fashion with my office wardrobe when faced with practicalities, long working hours, commuting and more. I was really excited when I heard about Arthur Shirtley at their launch event during London Fashion Week AW17 in February. They sent me along two of their most fabulous items from the current collection to style for a Spring Business Casual outfit.
My Business Casual Outfit
The Islington Rose Blazer was my starting point as it's a real eye-catcher. I rarely wear bright colours such as this pink hue to the office so I cannot wait to work this into my office wardrobe. With the blue pocket trims and blue paisley lining, it seemed an obvious match to wear this with a pair of denim jeans for that #FridayFeeling office look.
I layered the blazer over the Thames Evening Mist Panelled Shirt which is an absolute office wardrobe essential. I love the fit of this shirt and wore it loose over my jeans for a business casual outfit look. The Thames Evening Mist Panelled Shirt is so crisp and I can see it becoming any fashion blogger's instagram favourite! I love that at first appearance this shirt seems quite simple, but with such a perfect fit it will take you from day to night with ease.
I completed the business casual outfit with a pair of smart pink faux suede mules. These are perfect for stepping into Spring and as matchy-matchy as they are with the Islington Rose Blazer; it works. I also added my large, navy Michael Kors handbag to accessorise the look. A large handbag is always a regular in my office wardrobe.
You might remember I have been showing this outfit preview over on Instagram (Bec_Boop) and took you guys along with me the day of the photoshoot on Instagram Stories. Although I am so happy with how this outfit turned out in terms of a Spring Business Casual outfit – I am even more excited to style both the blazer and shirt in more outfits. I have visions of wearing them in many different ways; formal business wear to casual weekend style mixing it up with this high-end tailoring and other items in my wardrobe.
Shop the Business Casual Outfit from Arthur Shirtley:
Thames Evening Mist Panelled Shirt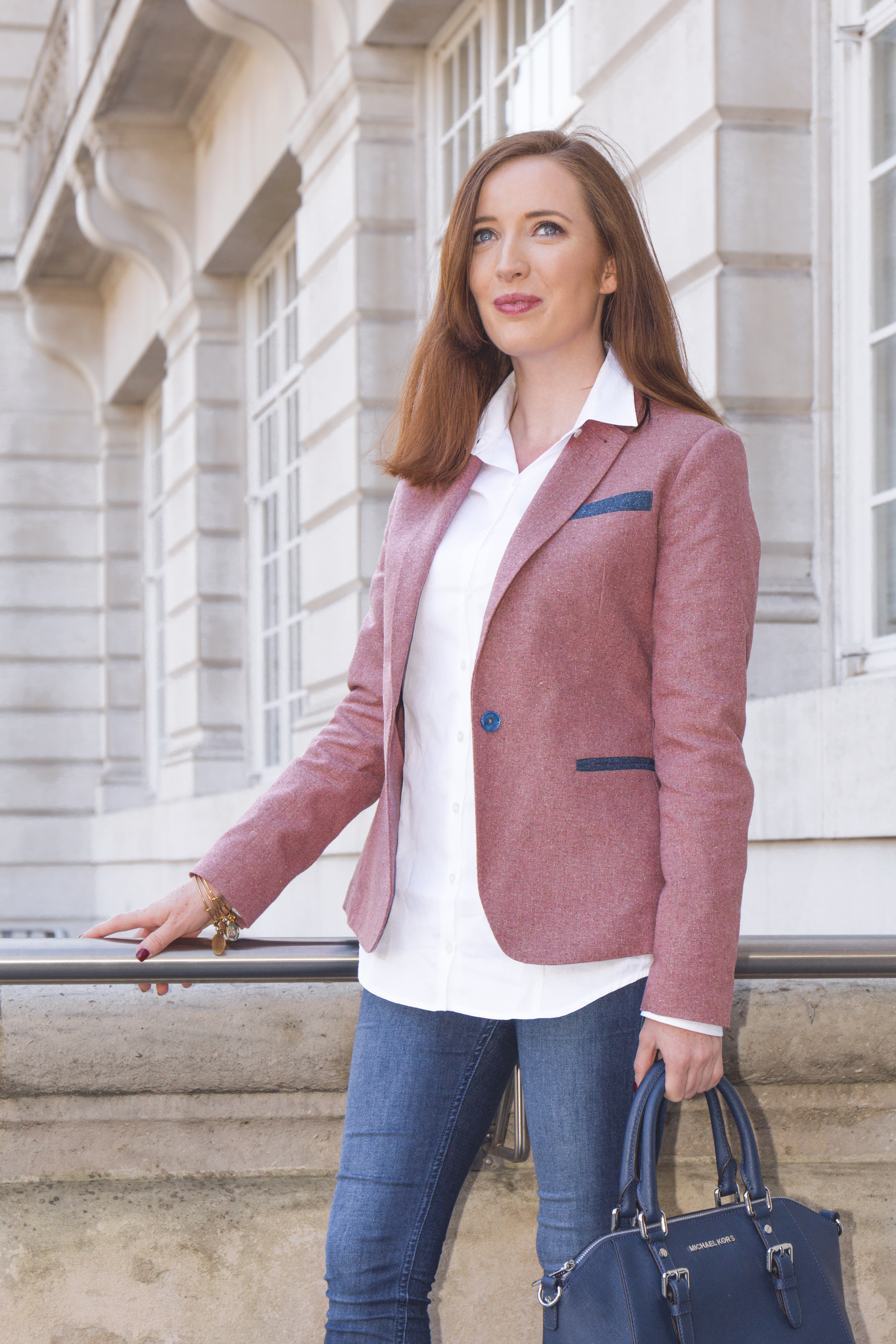 Save to Pinterest for Later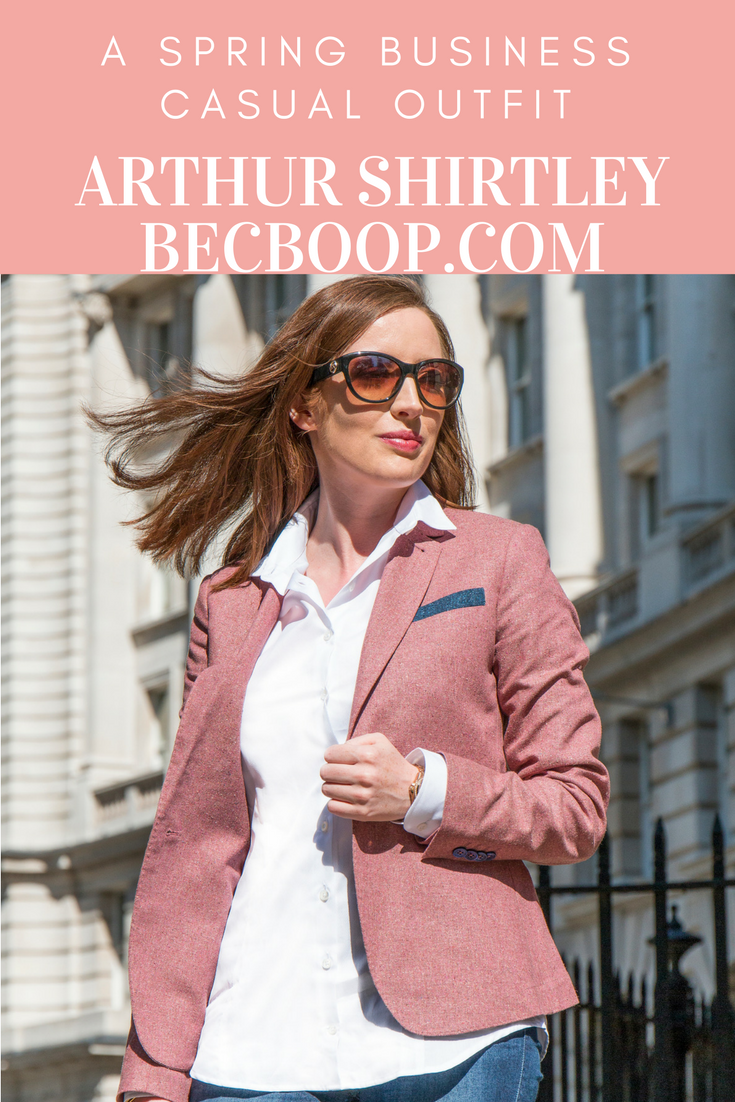 I would love to hear from you in the comments below. What do you think of this business casual outfit? What are your business casual styling tips?
* Thank you to Arthur Shirtley for partnering on this post
**Affiliate links have been used in this post
Photography
Connect with Bec Boop everywhere!
If you enjoyed this blog post you might also like:
My favourite office fashion outfit