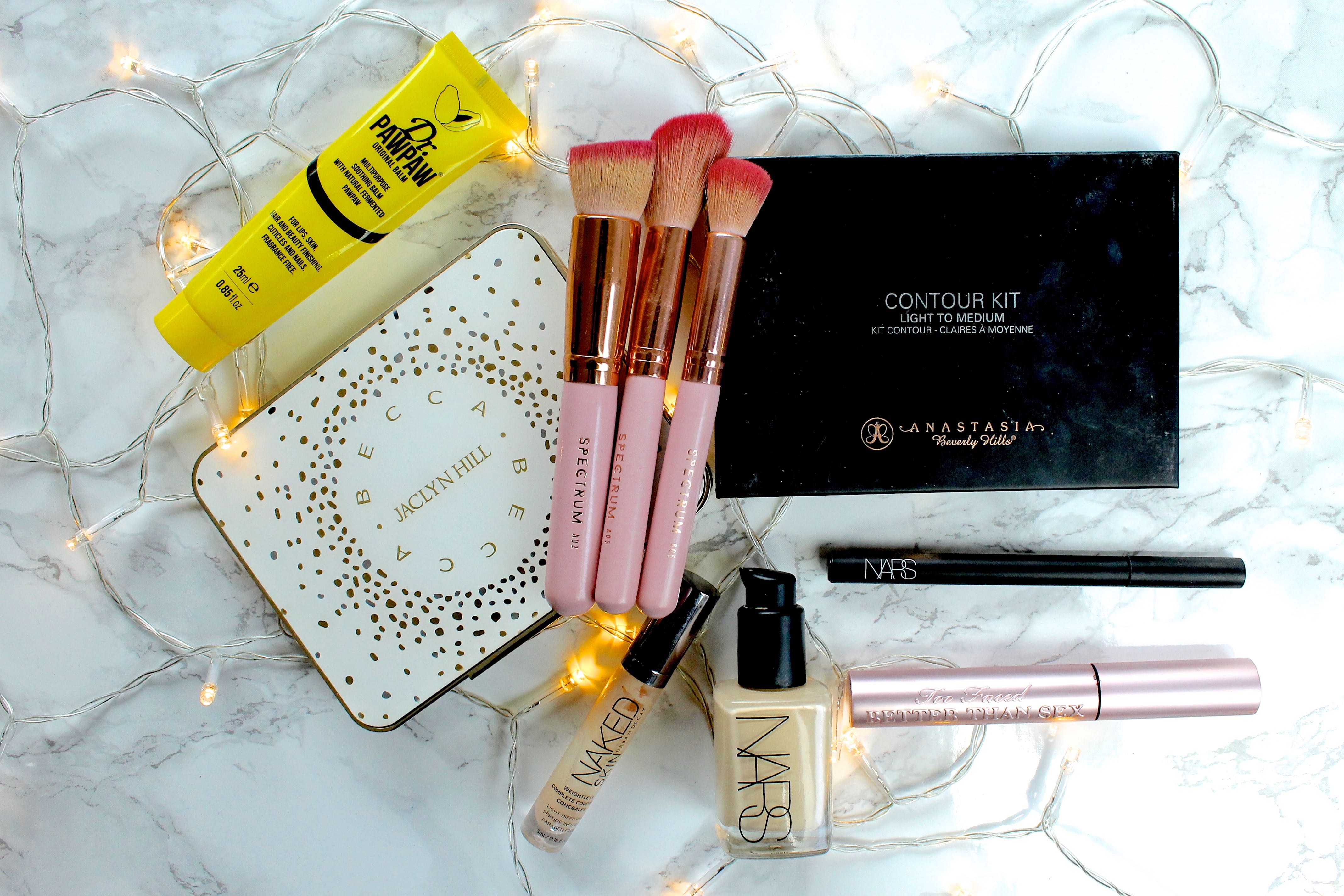 My beauty collection certainly expanded this year especially with the various products I picked up along my travels. It is always so difficult to narrow it down to monthly beauty favourites let alone annual favourites but in today's blog post I have picked out a few of my 2016 beauty favourites which represent the products I most used and loved this year.
Don't forget that I do a weekly beauty live broadcast on the Busker App every Sunday. Just download Busker for free from the app store and follow me @BoopFashionista.
My 2016 beauty favourites range from budget to high-end products, some I have been sent as PR samples during the year and others I picked up myself and fell in love with. I will also have reviewed most of these products previously in the Beauty section of BecBoop so be sure to check out the review if you want more details on any of the products featured. If it takes your fancy there is also a shoppable widget below with links to buy any of my 2016 Beauty Favourites. Now, let's get stuck in!
2016 Beauty Favourites
Dr PawPaw Multi Purpose Balm
The Dr PawPaw balm was definitely my favourite beauty find of the year. It has been a handbag and travel staple of mine for the majority of 2016. I adore the limited edition sparkle balm and it also comes in red and peach tinted balm. My favourite however is definitely the original multi purpose balm which I took with me on my travels this year. Believe me, on a long-haul flight Dr PawPaw was my beauty essential.
Spectrum Bombshell Brushes
Spectrum brushes took centre stage this year when it came to makeup brushes. With an incredible instagram campaign and packaging/designs reminiscent of all things unicorn and mermaids what was not to love. I tried out the Spectrum Bombshell Brushes shortly before they launched earlier this year and have been using them as part of my daily makeup routine ever since.
Anastasia Beverly Hills Contour Kit
I finally got myself a professional contour kit during one of my Sephora visits this year. I deliberated about whether I would prefer a powder or cream contour kit but I have no doubt that I made the right choice in this Anastasia Beverly Hills Powder Contour Kit.
NARS Sheer Glow Foundation
I wrote a blog post previously about the importance of finding the perfect everyday foundation shade. Yet, each year I found my everyday foundation changing. Obviously my skin is ageing gradually and depending on the external elements I find that I need to change my everyday foundation every 6-12 months. My everyday foundation of choice in 2016 was NARS Sheer Glow. A youtuber/beauty blogger favourite of course.
Urban Decay Naked Skin Weightless Complete Coverage Concealer
I would safely say that I re-stocked on the Urban Decay Naked Skin Weightless Complete Coverage Concealer at least 3 times this year. I first began using this in 2015 and unlike my foundation which changes every now and then; I seem to have found a permanent concealer fix in this Urban Decay product. The shade works really well with my skintone and is perfect for covering dark under eye circles and skin blemishes.
NARS Unrestricted Matte Eyeliner Stylo
I first featured this eyeliner in my 5 October Beauty Products I Loved blog post. Basically this eyeliner is a dream to use. It has lasted me since then without drying out and with almost everyday use. Isn't that unbelievable?! I love the matte finish and find the stylo pen so easy to apply. In 2016 I found my perfect eyeliner.
Too Faced Better Than Sex Mascara
Another product I picked up in Sephora in New York during the Summer and used almost daily since. This is my perfect mascara and a firm favourite in the blogging world – with good reason. The hourglass shaped brush gives really full and dramatic lashes when applied. I love it! I find this works great even for a heavier eye makeup look at night or for a party.
Becca X Jaclyn Hill Champagne Collection
Have you noticed a trend yet? Most of my 2016 beauty favourites have been Sephora finds. Finally I just had to include this face palette in my beauty round-up of the year. I love everything about this palette from the packaging right down to the pigmentation and finishing. The Champagne Collection face palette cemented my love for highlighters in 2016. It is also incredibly instagrammable which is always a plus.
Shop my 2016 Beauty Favourites
What were your favourite beauty products from this year? Let me know in the comments below.
Connect with Bec Boop everywhere!