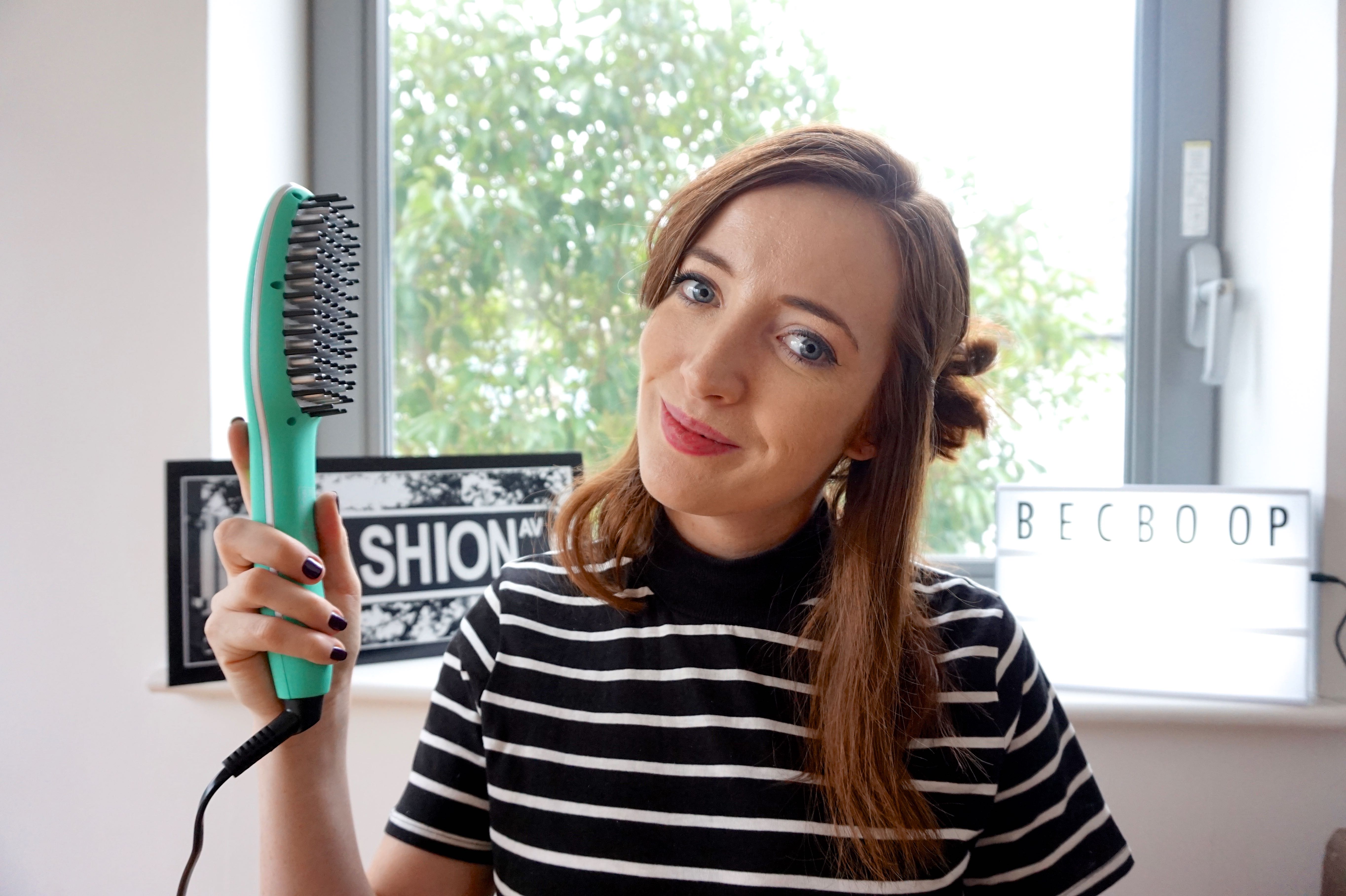 Is it time to say goodbye to your hair straighteners and trusty GHD? I have been putting the Jade Hair Straightening Brush* to the test over recent weeks. Let's talk about disruption in the world of hair straighteners.
I must have been living under a rock lately because I had honestly never heard of the concept of hair straightening brushes. That was, until the team from Irresistible Me got in touch to introduce me to the Jade Hair Straightening Brush. This revolutionary ceramic tourmaline brush makes straightening your hair easier than ever before.
First Impressions
I unboxed the Jade Hair Straightening Brush on my Snapchat (Bec_Boop) a few weeks ago so you guys could share in my reaction. The brush is unlike anything I have seen before. I was impressed by how fancy it looks and love the colour! The hair straightening brush is a similar size to a normal hair straighteners. There is a simple power switch and heat settings on the side with a heat display on the top of the brush.
How the Hair Straightening Brush Works
You simply plug the brush in, turn it on and adjust the heat settings. The wonderful thing about the Jade Straightening Brush is that it quickly straightens your hair with considerably less heat damage than a hair straighteners. It's also really, really easy to use and there's no risk of burning yourself, as frequently happens when using a straighteners.
The Hair Straightening Brush should be used on small sections of dry hair and you just brush it through your hair – as if you were normally brushing your hair. I couldn't believe how easy it is to use and this has been my saviour in recent weeks when I have been working very long hours at work with minimal time to get ready in the mornings.
I find the finished look to be different to what I have become accustomed to after using a GHD on my hair. Your hair will be straight but will also retain volume and shape – not that life-less, poker-straight look which we are used to. This has definitely been a welcome addition to my morning routine. Have any of you tried a hair straightening brush before? Let me know in the comments.

I would also love if you could add me on Snapchat Bec_Boop where I show you regular product previews and un-boxings.
Don't forget! I am currently running 4 weeks of beauty giveaways on twitter so make sure to follow @BoopFashionista and retweet my pinned tweet to enter.