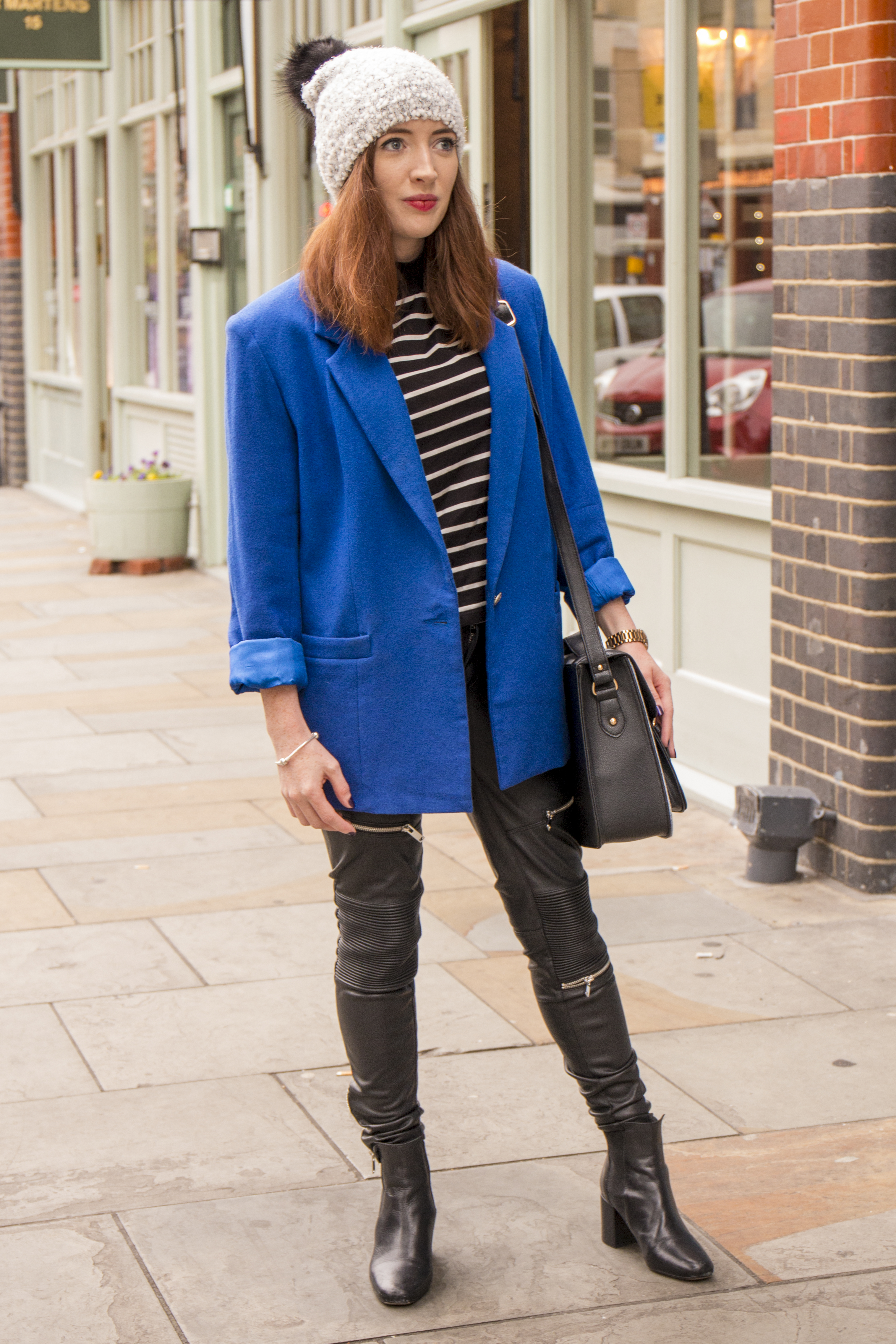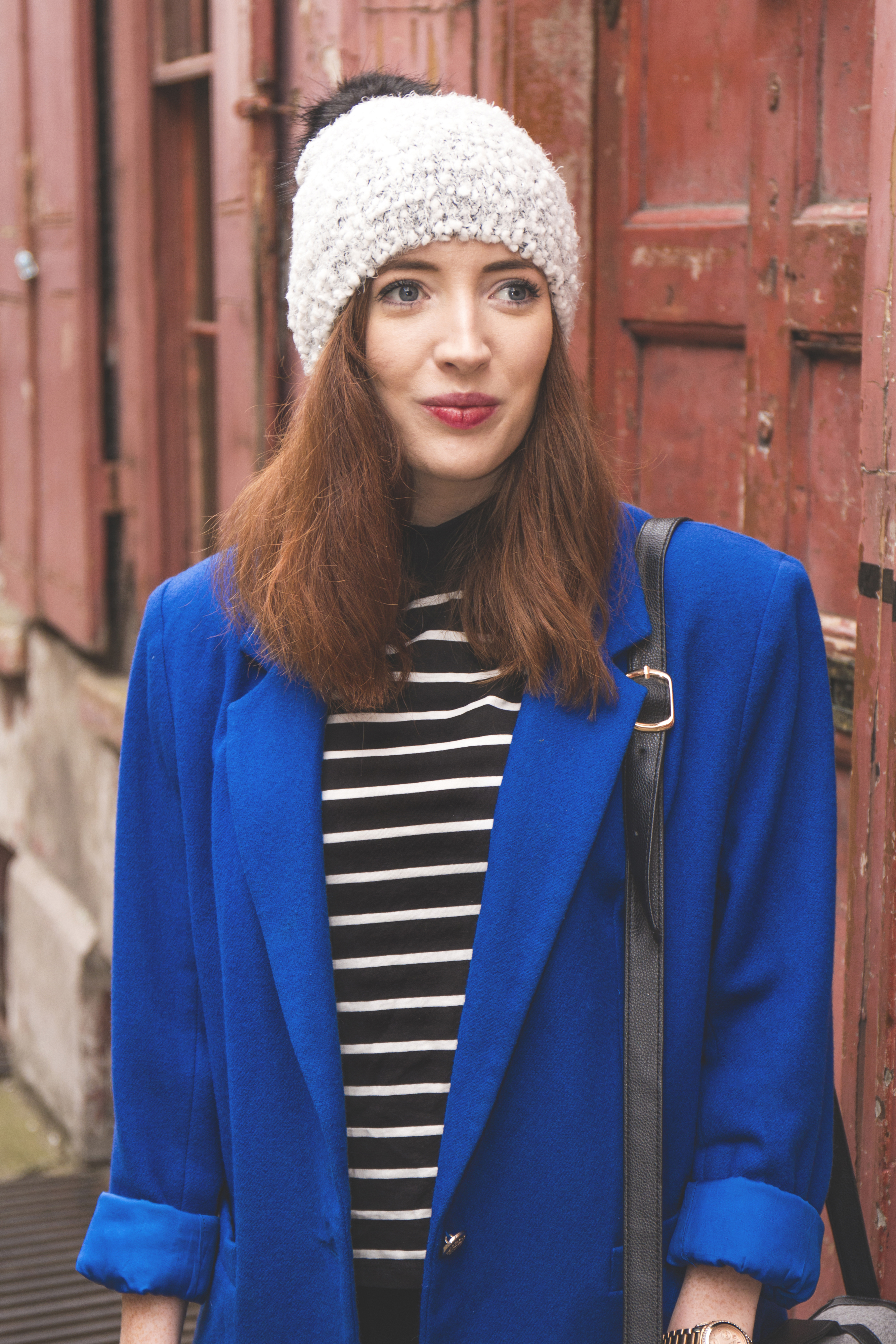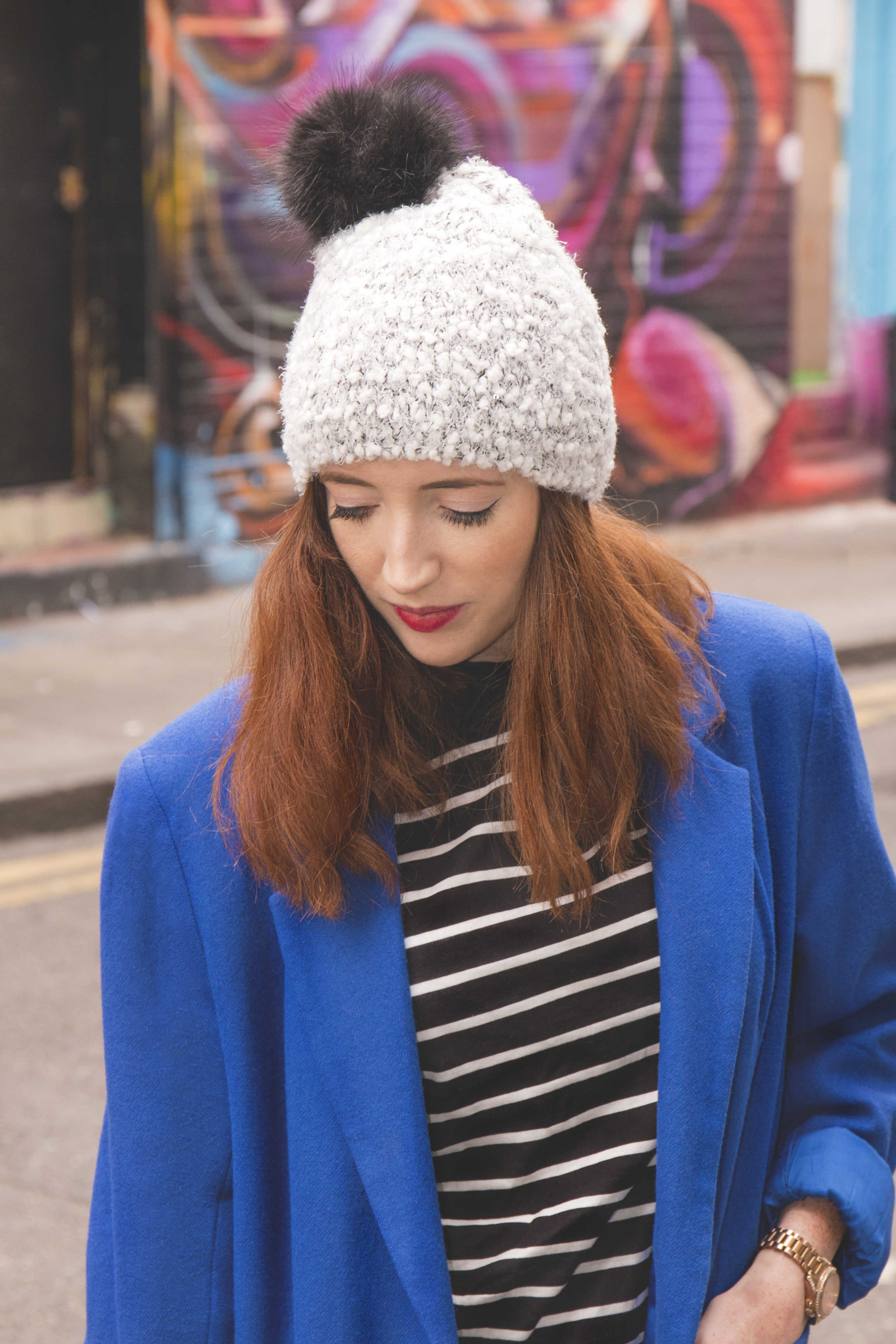 Happy Monday Boop Troop. I am delighted to bring you another new outfit post here on BecBoop from my most recent shoot with Alina Hachikyan.
This is one of my classic weekend style looks featuring a blue vintage coat, some high street staples and my current favourite beanie. I feel that all of the pieces I wore in this outfit are part of my Autumn/Winter capsule wardrobe. Let me talk you through the look…
The blue vintage coat
Ah I love to wear blue. I tell you this all the time! Having the rarest combination of blue eyes and red hair, blue is my bae when it comes to a fashion palette. This blue vintage coat was one of the first vintage pieces I picked up after moving to London at Blitz Vintage in Shoreditch. I love that place! It's not easy to find a royal blue coat on the High Street at the moment so I consider this one of my best vintage finds to date. The coat is slightly over-sized on me, which makes it a great Winter transition piece as I can layer away to my hearts content. I usually roll the sleeves up as you will have seen when I styled the coat before in this blog post. I think this contrasts well with the drop-shoulder detail of the coat.
The Beanie
Guys, I am totally obsessed with beanies. Once the weather starts to get any way cold I immediately stock up. I actually look forward to popping into Primark for my annual beanie-haul. This year I picked up this super snuggly beanie from Primark. The colours are quite easy to style and I love the soft black pom-pom. If you look closely there's also sequin detail which add a nice, subtle sparkle.
I usually style my beanie with my hair down and to be honest, it is an easy style fix for the mornings when you do not have a lot of time to prepare your hairstyle. I prefer baggie beanies that hang back a little on my head for that relazed, really-don't-care look.
The rest of the look
I kept the rest of my outfit pretty simple. The top is a striped polo-neck top from Zara. I actually love this, it is a polo t-shirt and the neck has a really nice height, again a great Winter transition piece for your wardrobe. I have been dying to feature these black Zara ankle boots in an outfit post. They are my perfect ankle boots! So plain and simple and really complete this look. By wearing black ankle boots and the black leather-look Zara pants, this adds the illusion of a little extra height in my outfit photos. See more of my favourite ankle boots in this blog post and YouTube video.
The accessories to complete this look included a Pandora charm bracelet and satchel-style bag. I have been having the best time shooting these looks with Alina. We have worked on three fashion shoots together now and each time we work together it gets more fun as we get more accustomed to each other. The photos Alina produces blow me away every time and I really hope you all enjoy this style content here on BecBoop.

On my Face
I kept the makeup for this outfit shoot really simple, this is basically a typical weekend makeup look for me. I have been using the NARS Unrestricted Matte Eyeliner Stylo which I showed you in my 5 October Beauty Products I was Loving blog post. The precision of this eyeliner pencil makes that winged eyeliner look so easy! The other beauty product I want to mention from this outfit post is the new DrPawPaw Limited Edition Red Sparkle lip balm. I am a big fan of this multi-purpose balm, you may remember I featured DrPawPaw on the blog before in this review post. Their festive offering is right up my street and will definitely be a regular in my handbag over the Winter months.
Outfit Details
Jacket Blitz Vintage // Top, Leather look pants, ankle boots Zara // Bag George at Asda* // Beanie Primark // Bracelet Pandora*
Photography
Have a great week ahead everyone. I would love to hear from you in the comments below. Please let me know if you enjoyed the format of this outfit post, where I talked you through the look. I would also love if you could add me on Snapchat Bec_Boop where I take you guys behind the scenes on shoots like this.
Don't forget! I am currently running 4 weeks of beauty giveaways on twitter so make sure to follow @BoopFashionista and retweet my pinned tweet to enter.